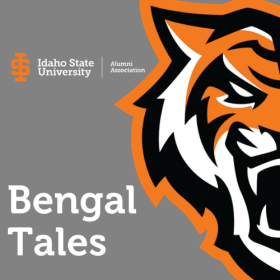 1st Tuesday 7:30 to 8:00pm (August through May, dates may vary)
Archived Bengal Tales Episodes
Formerly known as Bengal Buzz, the Idaho State University Alumni Association radio program has a fresh new look for 2021. Introducing Bengal Tales, a half-hour radio show featuring interviews with significant ISU alumni, students, faculty, and friends. Bengal Tales is dedicated to exploring and celebrating the inspiring stories, accomplishments, and community events for ISU Bengals. Bengal Tales highlights different events and opportunities for engagement as well as information about Bengal athletic games and University news for Idaho State University. Tune in and stay connected. Follow us on Facebook at @IdahoStateAlumni for additional information.
Email: sargryan@isu.edu
Website: isu.edu/alumni
AUDIO ARCHIVE / OLDER SHOWS (find audio of recent programs below)

Daniel Moore joined the ISU Alumni team in the fall of 2022. Dan graduated from Idaho State, first in 2004 with a major in Journalism and English, and then in 2008 in Graphic Arts and Printing. He currently lives in American Falls, where he was involved with community journalism and the newspaper The Power County Press until coming back to ISU in his new role. His new duties includes providing campaign support and donor outreach to help fulfill the mission of ISU and its students.

Rachel Taow attended high school in Idaho Falls, joined the US Army as an intelligence analyst, received an Bachelors of International Studies degree from ISU, and is now seeking a Law degree. She has recently been recognized for advancing her field at the Gateway for Accelerated Innovation in Nuclear at Idaho National Lab. Hear her conversation with ISU Director of Alumni Relations Ryan Sargent in this edition of Bengal Tales.

Join host Ryan Sargent as he discusses the Idaho Food Bank and the food fight with the University of Idaho.

Ryan Sargent sits down with the Alumni Office's student workers: Daniel, Joely, Kaila and Brooklyn. Tune in and get to know these amazing Bengals. They will be documenting the semester and keeping you in the loop about what's happening at Idaho State all semester long over on the ISU Alumni Association's social media channels.

This month, Ryan Sargent has a conversation with Maclane Westbrook, a KISU employee, ISU student, and show host.

In this episode of Bengal Tales Ryan Sargent speaks with ISU Alumni Board Member Stephanie Adams. Stephanie serves on several area boards, is a local business owner, and she graduated from Idaho State University in 2001.

Ryan Sargent, Director of ISU Alumni Relations and host of Bengal Tales on KISU, welcomes Joseph Chidiebere Emmanuel, a student at Idaho State University. They discuss his experience at Idaho State University, and the new Commercial Music Program.

The December edition of Bengal Tales features a conversation with our host, Ryan Sargent, and Tabatha Butler, Director of Development for the ISU College of Education and Idaho Museum of Natural History. Tabatha grew up in Pocatello and around Idaho State University. She graduated with a bachelor's degree in History from Idaho State University and a Master's in Applied Historical Research from Boise State University. Tabatha has helped to create three new endowments for the College of Education this year.

Bengal Tales is a 30-minute radio show hosted by ISU Director of Alumni Relations, Ryan Sargent. This show features interviews with significant ISU alumni, students, faculty and friends. This month, Ryan Sargent welcomes Travis Archibald, the newly-hired Development and Sales coordinator at KISU.

This month on Bengal Tales, Ryan Sargent welcomes and introduces Angie Wilhelm as the newest member of the ISU Alumni Association team. Angie assumed the Alumni Relations Events Coordinator role in August.